THIS is how you write a hit YouTube video script [+template]
When you write a good YouTube video script, you simply make better YouTube videos.
Videos that viewers will watch longer, which leads to more promotion by the YouTube algorithms, which leads to quicker growth of your channel.

In this article I'm talk about the steps to create a YouTube video script or script outline in a way that you can better control the narrative and speed of your video and it's also easier to stay on point.

The funny thing is that this process applies to other content as well: blog posts, making keynotes or writing books.
My book "What big tubers don`t tell you" is written with the same process but on a much larger scale.





Let's dive into the steps:

1. It starts with idea
I find it very useful to keep a list of video ideas in my phone and a document on my computer.
Whenever I get an Idea on the street or in the bus, I can write it down.
Some of these ideas have already a couple of talking points or keyword ideas.

This is the easiest way to never run out of video ideas ever again.
Whenever you are shy for an idea for a YouTube video, you simply grab the list.
So when you want to make a youtube video you can pick the video idea that has the most potential or is the most fun to make.

2. Research the competitiveness of the topic
Before you write even a word, look at competitiveness of your keywords on YouTube, but also look at the competitiveness in Google search.
Google is important if you want to make a blog post out of the content as well.
After all, you already made the content, why not use it twice?

But if you can use it as blog post depends on the type of content.
Curiosity content is only useful on YouTube, but not on Google.
Google is only useful if people are actually searching for the topic.
On YouTube you have the suggested algorithm and home, you don`t on Google.





If the topic on google is not competitive, but on YouTube it is, it might still be a wise decision to make the video if you have a blog.
If the blog post attracts google clicks and you embed the video, it is almost a guarantee to gets YouTube views as well.

This makes people stay longer on the site because they watch the video, which is a positive signal to Google that the content on my site is good which leads to a higher ranking in Google.
It is also a positive signal to YouTube when the video gets a high average view duration.

You also increase the chances of people hopping over from your site to your YouTube channel and subscribe.

3. Ideas for the script
Don`t try to write the script from front to back, you might run out of ideas.
Instead scrible down your main ideas, bullet point them and go and do something else.
Go for a walk, go take a shower, go to bed.

Somehow you`ve switched on an antenna for the topic.
You keep thinking about it and somehow you`ll get ideas automagically.

Write down every idea you get, maybe even parts of sentences.
The most important thing is to record your ideas before you forget them.
The order of ideas or writing complete sentences is not important for now, that`s for later.

Some use post-it notes for the bullet points, some use the notes app on their phone.
I use text documents on my computer.

This a creative process and creative processes that relies heavily on relaxation and doesn`t work well under stress.
Some scripts you can write in 2 hours, others in a day, and some just take a couple of days.

I also write better ideas on the couch with my laptop (instead of my desktop computer).
I think this is because my desktop computer is more "official", and my laptop has a more casual character which suits the idea-stage better.
Pick a spot that you can be creative in.

If you can`t come up with enough ideas, maybe the topic is not "fertile" enough.
This is where you decide to abandon the idea or not.
I always save and keep drafts, maybe later I get some ingenious ideas to continue, but in most cases I won`t.




4. Spy on the competition
When you think you have all your ideas for your script, go and spy on the competition.
Read websites and watch other Youtube videos.
See if the competition has ideas that you haven`t thought of.
If they are good, maybe you should add them to your script.

When you do it the other way around (first spy on the competition, then the ideas), you will have someone else's words in your mind.
By spying later, your basis is an original script, so no one can accuse you of plagiarism.

But if you add some ideas of other people, you make your own content more complete.
And for the viewer it`s the best content on the web.

5. Organize
Bundle ideas
Once you have all your ideas, bundle the ideas that are similar in topic.
Those clusters can be chapters or paragraphs.

For example, when you talk about fishing sports.
Bundle all ideas about bass fishing in a paragraph, bundle all your ideas about carp fishing in one paragraph etc.

Chronologic order paragraphs
Now order all the paragraphs in chronologic order.
Make sure that it makes sense for the viewer.
Now we have structure of our story.




6. Write the story
Once you`ve organized all your ideas, you can write the actual story.
Fill in the gaps, write out whole sentences.
It is also time to mold the story: does it flow well? How is the speed?

When you bullet-point your videos, you have it a little bit easier in this step.
You don't have to write it out completely, but you still have to think about the flow and speed.

Painter
I picture this whole process as a painter with a painting.
He first makes the outlines (sketch), once he`s happy with the composition and placing of the elements then he goes and paint the painting, not sooner, not later.

7. Read everything
As a writer you are blind for your own mistakes.
Put the script away for a day and read though the whole thing from A to Z.
You`ll notice that you made mistakes that you didn`t see yesterday.

Don`t do this 6 months later, because the script is still relatively fresh in your memory.
If a sentence is constructed in a weird way, you still know what you meant, if you wait 6 months, you don`t anymore.

This is also the stage to add some extra ideas you came up with last minute or to rewrite certain sentences or sections to make things more clear.

YouTube script example
I've put an actual YouTube video script online for you to download.
This example script is a script that I actually used for one of my own videos, with scene numbering, keyword research etc, everything is in it.

You can download this example script for free, you can find it in the download section of this site.

YouTube script template
Besides a free script example, you can also download a free YouTube script template.
To use it, just fill your video title, cards, end screen, cards, target keywords, optional notes and of course the text itself.
The basic structure of hook, bumper intro is already in it.

You can download this example script for free, you can also find it in the download section of this site.




8. Recording
Time-wise it is preferred to script videos in a batch, but also record videos in a batch.

I'd like the time between scripting and recording to be as short as possible.
The topic is still fresh on my mind and I'm enthusiastic about the topic.
This shows through on camera.

But how do you record this script without using a teleprompter?
I'll share with you a secret technique that I've developed over the years, so I don't have to remember the whole thing
That is the topic of my article: How to read a script without a teleprompter.

When you are serious about YouTube and want to take it to the next level, take a look at my video training program: Viral Strategy.
The program takes you step-by-step through the process of getting views, subscribers and going viral.

For new creators I included a module that guides you step-by-step through the process of starting, creating and setting up a YouTube channel.
Share this article
If you took value from this article, please share it on social media.


Website url:

Author
Dexxter Clark
YouTube consultant
Read more about the author
Book a YouTube consultation
Worth reading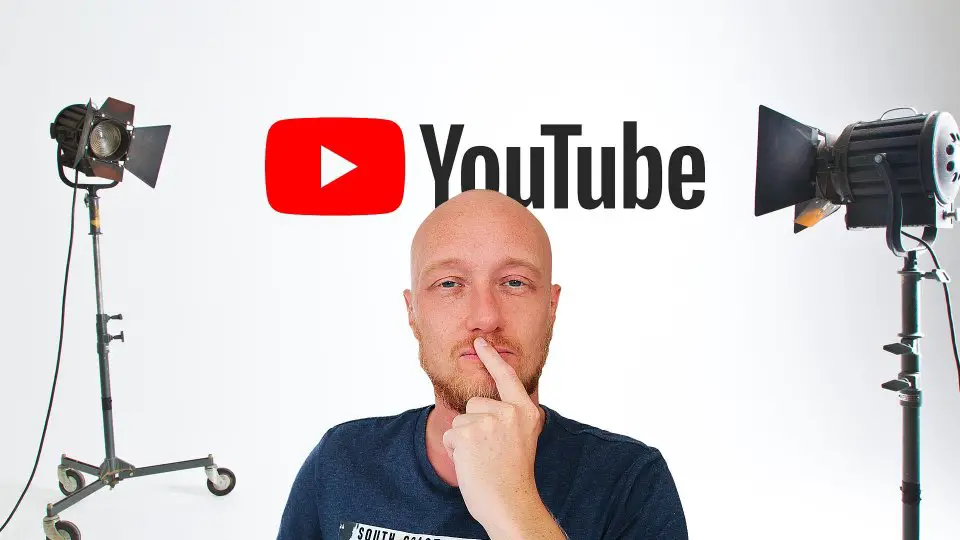 Absolutely not! 2023 is perfect to start a new YouTube channel. In this article I tell you exactly why. You might think that YouTube is ...
Read article