LOW COMPETITION youtube channel ideas beginners 2024
Which topic or niche is best for YouTube channel in 2024?
You've read everywhere: "fitness and gaming", right? NO! waaaaaaaay to competitive!
In this article a YouTube creator's perspective on: YouTube channel ideas 2024 for beginners with low competition.
I'll talk about: how to find a niche and 20+ niches (with 40+ sub-niches) with video ideas for inspiration.

Why is this article different?
Most articles written around this topic are drenched tips and ideas that an actual YouTube creator would never give you, because it's plain YouTube suicide.

Most authors take the top-down approach: they look at YouTube, see channels with millions of subscribers and millions of views and think that this must be a good topic!
But, most of those channels are doing this already 10 years, and started 10 years ago, not in 2024.
When you only look at the existing channels you see only the 20 channels that made it, not the 10,000 that didn't.

In this article I take the bottom-up approach, I view this from the YouTube creator perspective: someone that starts out in 2024.
I ACTUALLY researched the topics in the article! on YouTube and Google and used 3rd party tools to back up my claims.

When I talk about niches, I also mention how you can monetize the niche.
This is easier for some niches than others.
I left out YouTube ads, because it applies to all channels.




How to find a YouTube niche ideas?
Although it isn't necessary, it is easier to produce content around a topic that you are actually interested in.
Make a list with at least 50-100 ideas, I'll help you with ideas in this article.
If you have a lot of ideas, you have the luxury to cross off the ones you dislike the most in the end.

Some questions to help you come up with a niche:

What are you passionate about?

About which topic can you write a book?

What makes happy or mad?

What is your job?

What is your hobby? What are you doing in your spare time?

What are your strengths and skills?

What is the last fun informational book you read (or documentary watched)?

What Facebook groups are you following? (the topic of a group could be a great niche). Same goes for Instagram, Twitter, YouTube channels and other social media.

Sources to find YouTube niche ideas
To get the creative juice flowing for your YouTube niche idea list.
Let's tale a look at some of these resources first:

Amazon
Take a look at the subcategories on Amazon.com.
For example: the category "Automotive" has subcategories like "exterior accessories", "tires and wheels" etc.
These subcategories could be a great ideas for YouTube niches.

Wikipedia
On Wikipedia you can find a list of hobbies that could be great niches for YouTube.
I found within 2 seconds: acrobatics, acting, astronomy …. and that is only the "A".
On Wikipedia you can also find a list of Jobs and a list of sports.

Marketplaces
Online marketplaces Craigslist and Ebay have (sub)categories.
Subcategories could be great YouTube niches.

Forums
Forums like Quora or Reddit have also categories which could translate well to niches.


[AD3]


How to find a low competition YouTube niche?
Make sure you niche down enough to make yourself more unique, so you have a chance to stand out against the competition.

A YouTube channel about cars for example would be too broad.
You will get crushed by the competition.
Find a sub-niche within cars, like: retro cars, car interiors or car pimping.

It is useful to have a list of general ideas first, as many as possible (Amazon, Wikipedia, this article, etc...).
For every idea on the list we are going to do some research.


With Google
Use the auto suggest feature of the search box of Google.
The auto suggest feature shows what people are searching for, in other words: it shows if there is demand for a topic.
If you it isn't auto-suggested it is very likely that people are not searching for it.

Type in your niche and press spacebar, the auto suggest will give you search topics that could be great sub-niches.
For example: when you type in "car" and press the spacebar, Google will auto suggest "car wash", "car insurance", "car game" etc.

To expand the search even further: enter a letter of the alphabet after you pressed the space bar.
"car A" will yield: "car accident", "car africa", "car audio" etc.
You can do this with every letter of the alphabet.

Tip: Write down these suggestions on our idea list, some suggestions could also be great video ideas for YouTube!

people searched also
To get even more suggestions with Google for niches:
Somewhere in the middle of the page is a box "people searched also".
If you click on a couple of boxes and it keeps expanding, this is a great way to find even more suggestions.




Related searches
On the bottom of a search page in google is a section called "related searches".
Also here you can find potential YouTube niches (or video ideas).

Search results
Type in the specific search phrases you found with auto suggest and see what it comes up with:

YouTube videos instead of websites? That could be a good sign for low competition

Quora, Reddit or other forums? Great sign!

Are the websites that showing expert in one topic? For example, a lot of websites write about YouTube related topics (entrepreneur sites, media sites, video sites), but not a lot of websites are dedicated to the topic. Dedicated sites will win the top search results

How good are the answers related to your search query? Is it off? Great sign, because Google can't find good search results! You can provide it :)

Although Google does not always translate 100% to YouTube, it often does.
Googling is a good way to do some first recon (and ideas) before heading over to YouTube to check it.

Never trust Google keyword tools
By the way, don't use keyword tools (except Google Adwords and Google Trends).
Every tools has an estimation of search volume and competitiveness, but it is never accurate, because Google doesn't provide that information.
I've seen over the years multiple tools give the wrong information on multiple occasions.
I've developed multiple YouTube videos that had a high search volume according to the tool (and low competition), and it turned out: crickets!


With YouTube
On YouTube we can see more reliable results than Google, for two reasons:

This is actually the platform we are going to use (thus results are more reliable)

We can actually see the demand and competition in numbers: video views and channel sizes!


How to vet topic fertility and competition?
If you look at subscriber numbers, video age and video views of multiple videos on YouTube, what do the numbers mean for a beginner?

Views:

| | | |
| --- | --- | --- |
| views | Video age | demand |
| 0-5000 | > 1 year | No demand for the topic |
| 5000 – 10,000 | < 1 year | Could be good to start |
| > 10,000 | < 1year | Good |
| > 5000 | < month | Great |

Channel sizes:

| | |
| --- | --- |
| Channel size (=#subs) | demand |
| < 20,000 | You have a shot, the smaller the channel the greater the odds to beat it |
| 20,000 – 100,000 | Tough to beat |
| > 100,000 | No chance, you'll get crushed |

Tactic 1: auto suggest
Repeat the same auto complete strategy on YouTube as we did with Google.
Do the searches for the auto suggested phrases.

[AD3]

Click on a few videos in the first 10-20 search results.
How many views do the videos have? How many subscribers do the channels have?
Click also on a couple of suggested videos and look how many views they have, lookup in the tables above if that is a good or bad sign.

If you have a lot of competition, you need to niche down further in order to get a foot on the ground.
For example: instead of "cooking", you search "thai cooking".

If niching down also gives a lot of competition, you should considering another angle for the topic.
With angle I mean: other search term that could lead to the same result.
For example: the search term "YouTube niche" and "youtube channel topic" mean basically the same thing, but could lead to different search results.
If other angles don't or pick another niche completely.

You can extend the search method with the A, B, C method we did on Google before.
After your search phrase, type A.
YouTube will suggest topics in the niche that start with 'A'.
For example: "Thai cooking A".

Tactic 2: the "channel" tactic
Go to the YouTube search bar and type in the broad niche combined with the word "channel".
For example: "cooking channel" (=competitive) or "music production channel" (=less competitive).

This will return a list of channels and videos.
Again, look a the subscriber counts of the channels.
Also look at the videos and their view numbers.


With Google trends
Another tool you can use to spot potential sub-niches is Google Trends.
Besides looking at the fertility of your topic, it also suggests related topics.

Google Trends is an official tool by Google with actual search data from Google and YouTube.
Use these settings:

Pick a worldwide audience (unless your target audience is local)
Pick trends since 2004
Pick youtube search (instead of Google search)
This will tell you how fertile your idea is for YouTube.

Pick a niche that is stable or rising to have a sustainable YouTube channel.
Two tips:

Look also at the related topics and related searches

It shows sometimes the text "rising", while a topic is actually declining. Look at the graph to see if it is actually rising.

YouTube niches to stay away from
There are multiple niches you should avoid, unless you can find a good sub-niche with not a lot of competition.
Research these sub niches thoroughly before you start.

The general YouTube niches to stay away from (better ideas later in this article):

Cooking

Too competitive

Diet, health, nutrition

WAAAAY too competitive.
Personally I would even stay away from even the sub-niches completely

Sports

Common sports, especially fitness: WAAAAY too competitive.

Beautify & fashion

Very competitive

Finance / how to get rich

Too competitive + YMYL* content

Starting a (online) business

Too competitive + YMYL* content

Pets

Too competitive

Photography

Too competitive

Vlogging / entertainment

Difficult to get discovered

Travel

Too competitive

Technology

Too competitive, especially phones.
Evergreen content is tough

Gaming

Probably the most competitive "niche" on YouTube.
Even YouTube knows that, they have exceptions for gaming channels for YouTube features.
Seriously, don't even try as a beginner.
Especially streaming, especially common games is very competitive.

Music channel

Too competitive

Dating & romance

Too competitive

Broad topic channels

Content for everybody appeals to nobody

Kids content

Sensitive nature, can't monetize via ads

Medical content

YMYL* content


*YMYL = Your Money, Your Life. Google (part of YouTube) is VERY sensitive to content from non authoritative authors. You have to establish authority: https://www.semrush.com/blog/eat-and-ymyl-new-google-search-guidelines-acronyms-of-quality-content/
Although it is a Google specific issue right now, these kinds of Google "thingies" have a tendency to trickle over to YouTube.



Niche-down ideas for competitive YouTube niches
If you do want to get into the niches in the table above, you have to niche down to microscopic level or have a super unique angle that nobody does, otherwise you are doomed to fail.

Below I will discuss some sub-niches of the niches I mentioned in the table above, just to show you that you really have to narrow it down.


1. cooking
Cooking for singles / cooking for (single) dudes
There are a lot of singles and single men out there.
Cater to their needs: easy, cheap, fast and healthy meals.
Some ideas:

recipes

herbs

basic ingredients that everybody has at home

cooking

steam cooker

Chocolate recipes
Niche down in chocolate recipes for example.
It is still a touch niche though, consider niching down further.

Cocktails
It is still a touch niche though, consider niching down further.

How to make cocktails?

Best Ingredients

ingredients for colors

non-alcoholic cocktails

entourage (umbrella, fire etc)

Be careful, alcohol promotion or consumption is considered sensitive content (see Community Guidelines and Ad-friendly Guidelines)

Ice cream
It's not niche enough yet, you need to go deeper.
Some ideas:

how to make you own ice cream

flavors of ice cream / ingredients for ice cream flavors

make your own flavored ice cream (beer ice cream, the most disgusting flavors (like the disgusting candy but with ice))

what tastes good with ice (combination good like brownies)

[AD3]
Kitchenware / knifes
Kitchen utensils, like knife, cheese grater

What is the right tool for the job? Which knife for meat/fish etc

How to set the table for a fancy christmas dinner with multiple courses

BBQ utensils

cooking utensils for survival

knife laws

how to sharpen a knife like a cook

Candy from around the world
Every country in the world has its own specific candy.
Asian candy tastes weird to people in the west (and probably vice versa).
In The Netherlands we have typical dutch candy like drop (licorice) and stroopwafels (hardened waffle).

Video ideas

tasting reviews / packaging

candy history (candies from the past)

index candies by country

tools you need to eat the candy (i.e. cheese fingers to avoid dirty fingers from cheese snack)
2. Sports
Sports is generally really competitive, especially fitness.
If you want to get into the sport niche, don't choose the mainstream sports like football, basketball or tennis.
Most sports are seasonal, so your channel will probably have peak seasons.
Research your topic, you may need to niche down further.

Choose sports like:

golf

cricket

rock climbing

dancing (niche down to a specific dance: salsa, merengue , kizomba etc.)

chess

cycling

hiking (most most beautiful places to hike in Idaho)

archery

scuba diving

sky diving

fighting sports like: judo, jujitsu etc.

(ice) skating

skateboarding

3. Beauty and fashion
Don't do makeup tutorials, there are so many girls doing makeup tutorials.
It is hard to stand out.

Beautician
Do tutorials on beautician (pro) subjects.
Give information that not your average Instagram model can give you.
For example:

skin types (how to treat different skin types),

how to get rid of acne: tips from the professional instead of a sponsored Instagram model or marketing department,

makeup colors that match (color theory)

If you do take the professional route, stay away from the cheeky bikini stuff (I know it attracts views like crazy), but it will contradict your image as a professional.

Bikini / lingerie
If you do want to go the beauty, fashion or healthy food route, combine it with cheeky bikinis and lingerie hauls.
The bikini/lingerie hauls will drive visitors to your channel (mostly men), this allows you to make the beauty/fashion/food content you really want to make.
There is an incredible amount of competition in beauty/fashion/food, but because of the engagement (again, mainly men) you can grow very quick.

Be aware that you can't monetize your videos with YouTube ads.
You need to work with sponsors.
You also need to have a Patreon or Onlyfans where you show a little bit more.

Bikini and lingerie is HUGE HUGE HUGE!




Hair wear
Niche down in hear wear.
A good topic for a hair dresser.

Hair styles

Wigs

Hair types

best hair styles for hair type

how to cut hair of your boyfriend

How to make your own clothes
How can you make stylish and cheap clothes?
You can talk about different styles, colors, fabrics etc.
There are many different clothes: bikini, skirts, dresses, headbands, trousers etc.
You can make playlists by style and garment.

[AD3]

4. Technology
Tech explained
If you absolutely want to choose tech, instead of bringing the latest and greatest in tech-land, go the tech-explained route.
This content is relevant for a couple of years, this makes it easier for you to grow.
Explain:

WiFi technology

how a cell-phone works

the ip-protocol

HDD vs SSD

History lessions (I.e. how Google became dominant)

review old computer hardware (I.e. a review of Windows 95)

Channel like this: LGR, Tom scott, Computerphile, Gaming Historian (username: mcfrosticles)

You will definitely not be the first, so you better be sure to have a unique take on it.
Draw it, go on location and actually show the hardware, or have a really funny angle.
Humorous channels like: scott the woz and Jay Foreman come to mind.
Even if you (as viewer) are not particularly interested in a topic, you might still watch it because of the humor.

Robot sports

How to build a fighting robot

How to build and program a robot
3D printing
How to make 3d prints?

What do you need for 3d printing?

Where can you find free/paid 3d models?

How to make a 3d model yourself?

What kind of 3d printers are there?

What kind of materials you can use to print in 3d

You could review printers (but that is not evergreen content)

Blogging
wordpress tutorials (competitive niche)

seo (competitive niches)

how to write good blog articles

how to make money with blogging.
20+ Best youtube channel niches 2024
You probably have more luck in less competitive niches.
What is the best YouTube niches for 2024?
Try one of these:

1. Cars / planes (and other transportation)
Any means of transportation can be a good niche if you niche down.
Monetization can be a bit tricky.
You could sell car accessories via the Amazon affiliate program.
You have to rely mostly on sponsorships and merch.

Fixing cars
How to fix your own car.

Replace a car battery

replace exhaust pipe

Retro cars
reviews of old cars

Build (or restore) your own retro car (all stadia)

How do old cars sound / can you guess which car this is?
Racing cars
How to race cars.

Rules of the sport

Categories (car battle contests, drag race, ...)
2. Languages and migration
Learn to speak a language / Migration
Do you speak a second language (maybe you are bilingual).
Especially a country like The Netherlands is super small and not a lot of people will cover it.
You can Monetize with courses.

Video ideas:

Learn to speak a language

Grammar rules

most used words / how to ask for directions
Can you open a business in a foreign country (i.e. a bed & breakfast)
how to apply for a visa
what kind a visa are out there
what are the best countries to migrate to or the best provinces of a country.
What do you need to know when you migrate to country X, Y, Z

About a country and culture
Information about a country.

Travel tips

sightseeing (Chinese wall, Mexican cenotes)

biggest cities

habits / traditions / how to be polite

language (see above)

food
3. Educational / curiosity
How-to's and tutorials became synonymous with YouTube over the last years.
Which topic do you know a lot about?
Monetization can be a bit hard in this niche, you have to rely on sponsorships, merch etc.

Tips:

Pick the right sub-niche to prevent too much competition.

Also target long tail keywords.

Have a good unique or humorous angle.

Making clickable title and thumbnails is extra important in this niche.

Examples of curiosity channels:

smarter every day

Tom Scott

slow mo guys

[AD3]
Funny odd products
About unusual/strange objects and products.
There are products that where used in the past that became irrelevant over the years.
There are also products (tools) for example that are only used in certain countries.
For example: a cheese slicer is only used in The Netherlands, how did a record changer work back in the day

Video ideas:

Let people on the street guess what products are for

Information about the product / how to use the products

History of products or relevant (distinct) jobs
4. Home / DIY
Furniture building
You could build you own furniture and sell it in your own web store.
Maybe you could develop your own tools (i.e. a double sided hammer for chairs) and sell that in your webshop.

Video ideas:

how to make a curtain

how to make a wardrobe

how to make a chair, table etc.

how to fix a classic Louis XIV dresser


Home design
Can be competitive if you are not careful, pick a sub-niche.

Here are some general ideas for sub-niches:

Room decoration

color schemes

finding the right accessories for a room

videos like: how to hang a painting, hang curtain rod, paint the ceiling etc.

Roof and roof repairs
This niche is especially interesting if you are in the roof repair business.
You can show roofs of customer houses and how you fix them.
This establishes your authority in the space to sell you services.

Video ideas:

How to fix your own roof

kinds of roofing/tiles

kinds of structures

kinds of support beams
Do It Yourself
How to build/construct your own bathroom/kitchen

how to treat a wooden floor

How to tile a floor

How to drill a hole in a tile wall and preventing cracks in the tiles
Home security
What is secure? How many measurements to take?

When to call the cops

Do I need bars for my windows?

What are safe locks?

(best) alarm systems
5. Performance / Magic
You can do perform your arts on YouTube, like doing magic tricks.
But you can also explain details or aspects of your craft.
You can monetize by selling your tricks (in video format for example).
You can develop your material to do tricks and sell that (a cloak, special box with a hidden wall, ...)
You can also sell magic material via affiliate program like Amazon (although Amazon has low commissions).

Video ideas:

how to create your own tricks

tell stories about bloopers or weird things that happened

perform magic tricks
6. Fishing sports
You can monetize by selling related products like bait or angle accessories, or affiliate programs via Amazon for example (Amazon has low commission).
Ideas:

Types of fishing (fly fishing etc)

fishing rods

bait

what to you need for (fly) fishing

best fishing vacations /locations all over the world
7. plants and garden
You can monetize by selling seeds/plaints or related products like watering cans for example (make sure that it is unique, because people can buy a watering can everywhere).
Niche down on a certain type of plants:

succulents

growing organic herbs in your (community) garden or green house.

garden flowers

garden flowers that attract butterflies

flower decorations (also in-house, weddings or as a job)
Other garden niches:

ponds (creating a pond, plants, fish, fountains, garden gnomes, ...)

keeping animals in your garden (sheep, goats, horses, chickens, …)

green houses (building, creating ecosystem, plants)

how to make tree houses (pick the right tree, furniture, stairs, balconies, using glass or not)

[AD3]

8. Arts and crafts
Arts and crafts is a very fertile topic.
The beauty of art is that it is personal and you are unique.
Your unique style in working or crafting is your unique selling point.
Your uniqueness is your niche!

You can have only so many videos on the newest phone, but never about your art.
You can do how-to's, vlog about a fair, informational content about other artists (meet other artists).
You can monetize make courses about creating art (how to paint like bob ross in 50 videos).
You could also develop your own product (paint, pencil, cleaning etc).

Drawing

charcoal

pencil hardness h1, h2 etc

drawing techniques

types of paper / draw surfaces

drawing nude models

anime
Painting
brushes

techniques

canvasses
Air brushing
types of pistols (double action, single action)

paints

how to remove paint

brush templates

techniques

cleaning the pistols
Writing
how write a book (fiction / non fiction)

how to write a song

how to write short stories

how to write blogs

structure of a story

story telling with images

how to write a film script

how to publish a book (self publishing vs publisher)
Singing
vocal ranges (soprano, tenor, bass)

singing techniques

warmup exercises (really good for repeated video views)
Learn an instrument
music theory (great to make a course about)

piano

guitar
Even more niches
street art

animation (hand drawn/ 3d)

jewelry making (=competitive however)

making candles

knitting

9. Miniature arts
Monetization is a bit difficult for this topic.
I've looked into the model train niche myself.
Because it is a very 65+ hobby, brands don't target a young internet audience, so affiliate programs for example are scarce.
Amazon affiliate is an option, but the commissions are very low.
You could try to monetize with courses, but most topics in itself do not have much more depth that a course can offer over a YouTube video (like you could with a business related topic for example).
You could make very broad courses about designing a model train layout from start to finish for example.

Model trains / military / fantasy (Card games)

scenery (how to make a mountain, water, waterfall, house, debris, ...)

how to build you own locomotive / tank

digitizing your model railroad

how to start with the hobby

scales (O, HO, N, Z)

model railroads in small spaces (perfect niche down topic!!)

weathering and painting(techniques)
Flying model airplanes
Rules for flying model airplanes

contests

[see model trains]
10. survival / prepping
This can be the Bear Grills kind of survival, or doomsday prepping.

What plants/animals are not poisonous?

How do you cook your food?

How to build a camp site?

What food has a long expiration date

Survival gear (boots, food, backpack, ...)
11. Toys and games
I mean retro toys and games, toys and games from your youth.
But maybe current toys too.

There is a large collectors community for games and toys.
For example there is a large Lego community.

With a retro video game channel myself, I know from experience that monetization is very hard.
Sponsorships are out of the question for old products.
Courses is very hard too.
Buying in bulk and selling games/toys is very time intensive and hard to make a decent buck.

Video ideas:

Toys/games/kits from a certain era

reviews old toys/games/kits

reading a retro magazine (I've seen the videos)

telling stories about toys/games

showing collections

In this niche viewers are much more patient than other niches and it's easier to gather watch time and a higher average view duration.
These niches drive purely on nostalgia, this is why reading an old game magazine for example works.


12. niches for dudes
The "beauty" and fashion niche for guys is not as saturated as women.
Sponsorships would probably you main source of income.
You could try sell your services as coach or clothing advisor.

Male grooming

Popular haircuts, hair styles

how to grow a beard/mustache

reviews trimmers and other grooming related products]
Male modeling
food tips

confidence tips
Male styling
How to tie a tie

What to look out for when buying clothes

Sizes and size tables

How do you know if a jacket fits?
[AD3]

13. Buying a home
This could be a good niche if you are a real estate agent or a professional handyman.
You can sell your real estate services and advice about how to can better sell your home.

Buying and selling a house

tips to sell+ buy your house

Financial advice (extra fees, notary, mortgages (be careful with YMYL))

where to live cheap in the country/world

what to look for in a home

flipping homes

Immigration- buying a home abroad

Sell your home quicker
Quick and easy fixes/makeovers for your home to sell quicker.
Video ideas:

fix a stair

fix a hole in the wall

painting the walls

decluttering / cleaning

rearrange furniture

decorate with cheap furniture (probably involves the famous Swedish furniture store)
14. spirituality / personal coaching / happiness
Some general video ideas in the spirituality niche:

Universe

Karma

Law of attraction

Religion
Share knowledge about your religion.
What are common beliefs/theories in your religion? You can discuss a topic in every single video.
This can be your own religion or religions around the world, like Buddhism and all the 180 sub-religions of Buddhism.

Monetization can be very hard.
Personally I won't accept any form of commercial activity around my religion, I know that that is more accepted in America than over here in Europe.
Here in Europe any commercial intent around religion is an absolute no-go.

Personal coaching
Make people happy and make them cope better with difficult situations in their personal life, for example:

how to get over a break up (competitive topic)

how to deal with the loss of a loved one

how to find a job (competitive topic)

employee rights (could be YMYL)

how to fight less with your spouse

better cope with stress
The topics above are very broad.
You could probably sell individual courses on each of these topics.



15. Parenting
Being a parent can give you some moral dilemma's.
These are great topics to discuss in videos.
I would absolutely avoid medical content like "my kid cut is finger, a bandaid or hospital" due to the YMYL nature (unless you are a licensed doctor).
But topics like "my kid is bullied at school, how to handle that" could be great.

Parenting is probably be a bit too broad if you don't have a unique angle,
I would suggest to niche a bit more down than parenting in general, for example parenting children with ADHD.

Some video ideas:

How to punish a kid the right way

How to make your child learn a lesson?

Tricks to make a baby sleep

A baby on the way: what stuff do you actually need?

Toy reviews from a parents perspective (educational value, child quickly bored with the toy, breaks quickly, ...)

[AD3]

16. Jobs
About professions: finding a job, keeping a job or job promotion.
This niche would be great if you are a job coach.
You can sell courses like writing good job application letters.
Video ideas:

writing a good job application letter

job/evaluation interview

job coaching (find the job that fits you best)

how to ask for a raise

how to ask for a promotion

how to tackle bullying in the workplace

I can't stand my colleague, when can I punch him in the face (I'm joking about the punching part of course)
17. grandmothers' wisdom
Tips that your grandmother would give you.
Make sure an older lady is involved on camera.

There is only one person:

that can cook a delicious meal like your grandmother.

that knows how to remove that wine stain from your shirt.

How to make your clothes smell fresh after a night out

How to make your hear look great after you used too much bleach
You need to go all out on the curiosity driven titles and thumbnails, although you can drive some traffic through search with people searching for a solution to their problem.

Monetization is difficult.
You could try reviews and recommend products to get some affiliate commission.

The topic can be too broad, niche down if that is the case (grandmothers clothing tips, grandmothers cooking tips, etc.).



18. Comedy, humor, pranks, jokes
There is a lot of competition out there and none.
The reason why I say that is, you are your own unique individual.
There is no one like you with your specific humor.

There is a lot of potential here, but you have to be in it for the long haul.
Getting discovered (just like with vlogs) is a big challenge.

Monetization is also a big issue.
Getting affiliate commissions is hard, courses is hard (but not undoable).
You probably have to rely on sponsors.

19. Animals
I mean non-pet animals (the pet niche is pretty saturated).
Some niche ideas:

Bird watching (great for courses)

African animals

Where to travel to see certain animals (unique diving places in the world to see amazing fish)

Taming wild animals (crocodile, monkey, ..)

Bugs / keeping bugs at home
20. Reenactment / LARP
Be it fantasy or reenacting a famous historical battle.

What gear do you need?

How to make your own costume?

Tips to camp, making your own fire

Historically correct cooking

Rules of reenacting
21. Illness or condition
Health is a YMYL topic, so be careful.
Go for the experience side instead of the medical side.

Diabetes

Cancer

HSP

ADHD

Amputee

Blindness / deafness / visually or hearing impaired
How to live with the illness, how people react to the illness.
The topic is great because viewers can relate.



22. Collecting
Being a game collector myself I can relate to the collecting craze.
People collect all kinds of stuff, from post stamps to sugar bags.
Although Post stamps may be a bit outdated nowadays, there are plenty of other things to collect.
List of YouTube video ideas:

How to collect

How to get into the hobby / how expensive is the hobby?

How to collect on the cheap,

Items from a certain era (I.e.1960-1970),

How to spot fakes

How to determine value

Marking outings of a certain item

History of brands / items

Who are the experts in the field

Preservation / restauration

Museums

Fairs
Some niches:

Vinyl / DVD / CD / VHS collecting

Pokemon (cards)

Baseball cards

Magic The Gathering cards / statues

Amibos

Movies and movies memorabilia

Car collecting

Teddy bears / dolls

Brand merch collecting (i.e. marketing outings from a cola brand)

Computers

Model trains/ airplanes

Collecting art

Stones

Paintings

Animals (cats, dog, birds, tigers etc)

Native American artifacts

Children's toys
[AD3]

Reviews and unboxing
Reviews and unboxing is not a niche in itself, it is more a type of content.
Therefore one huge side note here.
Reviews and unboxing can be extremely competitive on YouTube in some niches (tech for example) and noncompetitive in others.
Don't even think about reviewing the new phone of the famous fruit company, the competition will crush you.

Before pursuing a niche, do your homework.
Do your research and find a specific product niche that has not a lot of reviews.

The reviews and unboxings apply to a lot of channels:

a gaming channel can review a gaming headset

a DJ channel can review DJ controllers
One tip: make valuable reviews.
Don't do slideshows, actually buy and use the product yourself for a week.
Prove that you have used the product and can give an honest opinion about it.
This is far more valuable to watch and retain audience retention than a boring slideshow.

The reviews a moderately evergreen, most products have a lifespan of 3 to 5 years, modern electronics even 1 year.
Pick the right type of products to review.

You can make money with affiliates and sponsorships.


Find a good name
The next step would be to find good YouTube channel name.
To help you get started check out my article about finding a good YouTube channel name.


When you are serious about YouTube and want to take it to the next level, take a look at my video training program: Viral Strategy.
The program takes you step-by-step through the process of getting views, subscribers and going viral.

For new creators I included a module that guides you step-by-step through the process of starting, creating and setting up a YouTube channel.
Worth reading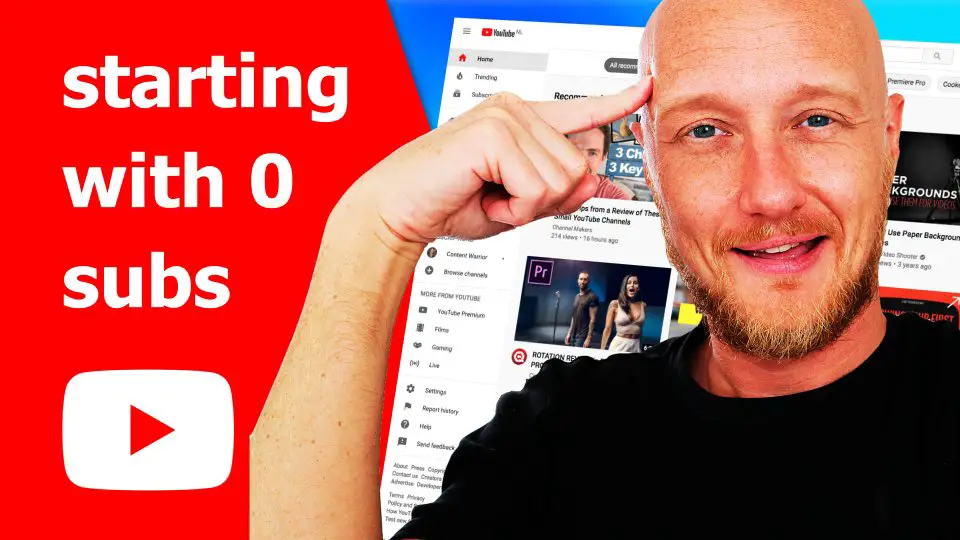 [VIDEO]
In this article everything you need to know about starting a YouTube channel as a beginner. Step by step I will explain how you can start ...
Read article