EASY Background ideas to make YouTube videos look AMAZING
The most simple things can make a great video background and backdrops in your youTube home studio.
In this article I'll share tips, tricks and ideas for easy YouTube Home Studio backgrounds that won't break the bank or you can make yourself.

If you look around, a lot of YouTubers use really simple home studio setups.
I experimented with a lot of different backgrounds and backdrops over the years, and I ended up with something super simple.

First I'll dive into some tips, later in this article I'll give you some ideas:

YouTube video background tips
1. Establish authority
Your background has to fit your videos.
A background with my computer with monitor speakers is great for a music production YouTube channel, but also serves as a background for videos for the YouTube channel for this website.

But for a gaming channel it is a bit too "official", because you want to project an image of fun.
This is why I shoot for my gaming channel on the couch: I'll digitally invite you over to my house to play a game with me.

2. Copyrighted material
A lot of YouTube creators seem to forget this.
But you need to be careful with copyrighted material.
That statue of mickey mouse may be cute, but it's also copyrighted.
That beautiful picture that you bought at the famous Swedish furniture store, it is amazing, but it is also copyrighted.

With Europe's article 13 (renamed article 17) approved and American presidents pushing for the same thing, you will run into problems in the future when the YouTube algorithm is up-to-snuff.

When you are a small YouTube create this is probably not a problem, but when you grow bigger, it will be, because copyright holders can smell money from a mile away.

3. Backlight
Make sure that you don't have light that shines into the camera.
Lights behind a subject makes the subject look like a silhouette.
Also, a lot of cameras use contrast to focus and therefore can't properly focus.

I tried to film for my gaming channel on the couch with the window behind me, but the camera kept wandering off with the focus, also the lighting was all over the place.
This is why I film with the curtains closed, which looks weird, but you have to work with what you got.

4. Clean up your room
Yes, I know I broke this rule myself, just because I forget.
Sometimes my desk looks messy.
A messy room (or desk) is not fun to look at for the viewer and gives an uninterested impression to the viewer.
The viewer might click off, because they sense you might not be fully committed to your video.

5. Don't blend into the background
Keep in mind that your clothing choice may blend in with the background.
Make sure you stand out against the background, otherwise you have one background with a head in the middle.

On the topic of clothing, make sure you don't wear something with a repeating pattern (like stripes), because it will interfere with the resolution of the video.
This gives a really weird artifact on the screen.
In my days as an actor I was warned every single time not to wear anything with patterns that could interfere.

6. Anywhere that is a bit representable
You have to make the best of the situation.
A lot of places are not ideal to shoot, I've shot DJ tutorials in a really tight corner cramped in between my bed and the closet.
It is not ideal, but it works.

Look for a spot in your house, a corner, a wall that looks a bit representable.
If not, maybe with some minor tweaks, I'll come back to in a minute.

The funny thing is that limitation breeds creativity.

7. Easy to set up
You want to have a background that is permanent or easy to setup within 30 seconds.

This is one of the reasons I've mounted my soft box lights to the wall.
If I have strangers coming over, I can remove them.
But I won't remove them when I'm home alone or my girlfriend is coming over.

I had the stands for the lights but they took up so much space, I tripped over them constantly.
Also setting up takes at least 10 minutes.
Now, I only have to switch on the lights and I'm ready to go.

The same thing you want to have a quick-and-easy way to set up your background.
If you shoot videos often, you don't want to set up and break down the whole shabam every single time
[AD3]
8. Don't exaggerate
Your background needs to look presentable, but keep in mind: it isn't a hollywood movie.
This is Youtube, a little bit of amateurism is baked into the expectation of the viewer on YouTube.
The You in YouTube means that You can cut yourself some slack.

This also means also that viewers can relate quicker to you, than when you have a fancy setup.

YouTube video background ideas
1. Nature
It is really simple and it costs nothing.
The downside is, like here in the Netherlands, we have 5 days of summer and the rest is rain, rain, wind and rain again.

Nature as a backdrop has an organic feel to it.
Also the background changes a little bit, like leaves moving in the wind, or a car driving by in the background, which holds the viewers attention better.

Two things I've learned is:

don't stand too close to a busy road, otherwise the background noise is terrible.

the YouTube compression doesn't handle a lot of changes in the image very well

Walking while filming isn't the best, because you are breathing more heavily than in a normal conversation.
2. White wall
Nothing is more simpler and cheaper than a simple white wall.
But is also kind of boring.
When you have something on your wall, you have more depth in the picture.

Painting your wall in a dark-grey, dark-grey-green, dark-grey-blue can make a huge difference.
Some more ideas to transform the white boring wall coming up.

3. Colored led lights
One of the ways to transform a boring white wall, is with colored led lights.
I see a lot of creators use colored led lights, which can achieve great looking results.

Make sure you choose led lights that have a high frequency that doesn't interfere with the frame rate of your camera.
This gives a really weird effect.
You know when you film those old-school tube televisions? those give stripes when you film them.
Or when you film a helicopter that the rotors don't seem to move? this is the same problem.

Another common problem is that most of these lights make that part of the image "clip".
The light it too bright and that part of the image is simply over-exposed.
As a result, the light looks like one big textureless WHITE blob on the wall.

Some creators use led lights that automatically change colors.
This is fine if you do 1 take videos, but most of us don't.
With every cut, the color changes, which looks amateurish and is distracting for the viewer.

4. Wallpaper
Some structured wallpaper with a consistent pattern can do the trick very well.
Make sure that the pattern is not too intrusive, otherwise we might have the same problems as with the clothing, it interferes with the resolution of the film.
Although it is generally less of a problem, because the background doesn't move or folds (at least I hope so for you :)).

A wallpaper that imitates red bricks or wood for example could be a great.
But actual wood or bricks works also work by the way (sssst, that is a secret).

5. Backdrops
There are professional backdrops in different colors.
You know, the ones that photographers use.

Choose a backdrop solution that you can mount to the ceiling or the wall.
You can also use a solution with stands, but this takes 10 minutes to set up.
Also, you need two people to hang the roll and the backdrop rolls are super heavy.

A backdrop roll can be fabric or paper.

Backdrop paper
Although the paper is thick, it can rip.
It also curls, because you roll it up after usage and paper tends to have a material "memory".
You can pay easily pay 30 bucks for a piece of backdrop paper.

Backdrop fabric
The fabric needs to be ironed otherwise you will see the wrinkles.
But at least you can wash it, if it gets dirty.
And it's also more durable.

The problem I have with these professional backdrops is the esthetics.
If you have a dedicated YouTube Studio that is just fine, but in a living room situation it's just butt ugly.

Nevertheless the camera results with a backdrop can be extremely good, especially for thumbnails.

I experimented with a black fabric backdrop used for theaters in my YouTube videos.
But I wasn't too happy with the results.
It is fine for a theatre setup, but the results on camera were average.
You need to cover a lot of wall.

I also experimented with a removable background.
It is a hoop which keeps the fabric straightened out (to prevent wrinkles).
One side is green, the other grey.
I can hang the up on hooks in my living room.
Only, folding this thing is a nightmare, setting up is done in 3 seconds.
But figuring this thing out to put back in its bag without breaking the hoop …. 10 minutes!
Because I don't do it on a regular basis I forget every time the folding procedure, I have to look up a YouTube video every single time.
Now I hang the complete thing in my bedroom on a hook and can grab it whenever I need it.

6. Green screen
Green screen could be a great option.
I see and hear a lot of YouTube creators raving about the green screen (or blue screen).

I've experimented with green screen (that hoop-thing I talked about earlier), but it's not for me:

It takes a lot of time to set up

you need a good green color, some random green often won't cut it

You need a flat surface without wrinkles, so folding a green cloth only works if you iron it every single time

the green reflects on everything like my glasses and my bald head, which makes it harder/time consuming to edit

Zooming in and out is a nightmare in post (you have to zoom in and out manually the background in same amount as the camera zooms)

A good lighting setup is a nightmare. You need to distribute light evenly.

framing the picture is a nightmare, otherwise you have to cut out a lot in post.

The video editing takes a tremendous amount more time, for every shot I have to adjust the green screen settings for the optimal result.

Also video rendering takes longer and previewing is more taxing on your CPU/GPU

A green screen background can feel impersonal / unnatural for the viewer. They want to see the human species in their natural habitat.

To be honest, the result is not that great
Now you have a green screen, but what do put on the green screen as background that looks good?

I've seen YouTubers like Tom Scott and some gamers achieve amazing results.
But it's just not for me, a normal (simple) fixed background is much easier and quicker to shoot and edit.
Stick around, I'll come back to that in a minute.

7. Curtains
One of the easiest things to hide and set up are curtains.
It is also one of the most esthetic options if you are living in a small space and use your living room or bedroom as a YouTube studio.

You could hang a rail on the ceiling in front of the wall.
Once you need it, you close the curtain, if you are done, you open the curtain.
Curtains can also block a window to keep unwanted backlight out.

8. simple / neutral background
A background can be really simple, often the most simplest of setups are extremely efficient.

You are the center of attention in the video
You don't want your background to steal too much attention away from you.
So you background needs to be somewhat neutral.

Some simple ideas:

A simple book case with a couple of items

shelves

A plant to make things look more organic

Some picture frames with photos (of videos, stock photos, abstract art)

art (but we don't want to run in the copyright problems)

a clock (make sure the clock doesn't work, otherwise if you have to move footage around in post, the clock reveals what you did)

some memorabilia that remind viewers of things you did or used in other videos.

Chalkboard / whiteboard
When you have a bigger sensor in your camera it is easier to achieve that bokey effect where the background is blurred and you are in focus.

In my case I choose couple of picture frames and put copyright free pictures in them I printed out on my printer.
It isn't amazing by any means, but it works and it isn't bad either.

I could add some shelves or cupboards to create more depth (but in my case I can't, because it's a path way in my house).
I'm still looking for a solution with LED lights to give it a bit more atmosphere.
My amazing background costed me less than 100 dollars.

Once you have an amazing background, you can start making videos.
I'll help you with my optimized process over the years to make YouTube videos.

When you are serious about YouTube and want to take it to the next level, take a look at my video training program: Viral Strategy.
The program takes you step-by-step through the process of getting views, subscribers and going viral.

For new creators I included a module that guides you step-by-step through the process of starting, creating and setting up a YouTube channel.
Worth reading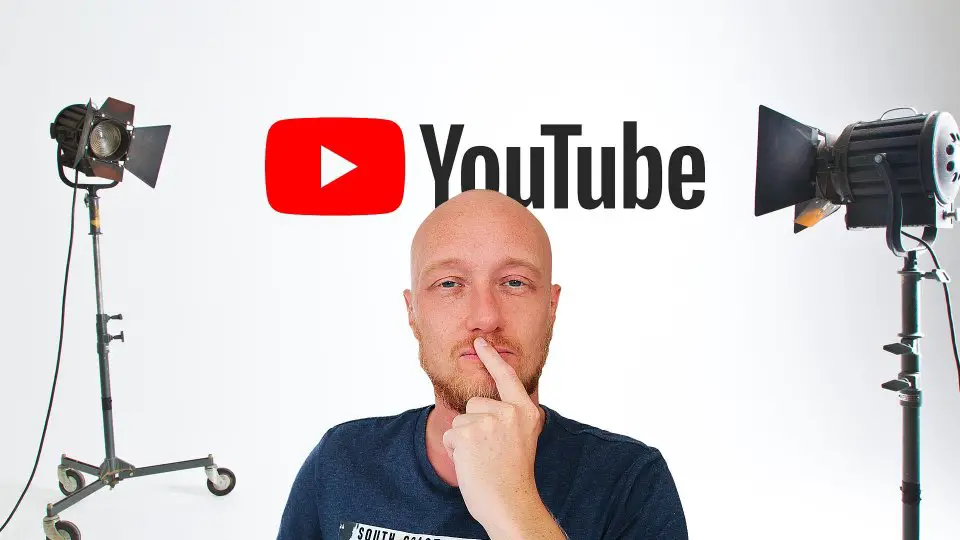 Absolutely not! 2024 is perfect to start a new YouTube channel. In this article I tell you exactly why. You might think that YouTube is ...
Read article